Space Coast Daily Video Interview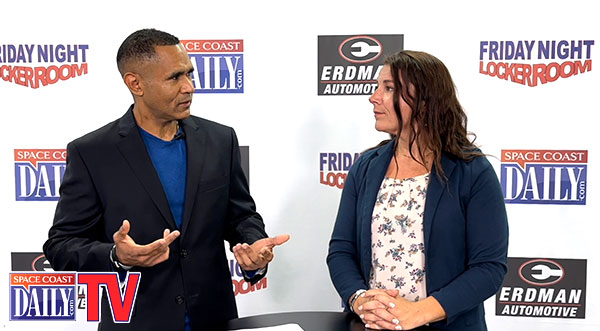 SpaceCoast Living Magazine Articles
Senior Scene Magazine Articles
Space Coast Association of Realtors® - Business Partner Spotlight
Borde and Associates Health Insurance Sharing
Health Insurance is Important - Borde & Associates Can Help
Health Insurance is a must; BORDE & ASSOCIATES can help!
Health insurance is an essential part of having a healthy lifestyle. Health care programs are not a size fits all, health insurance policies cover medical treatments or procedures differently. There are many options to choose from when shopping around for the right insurance policy.
Borde and Associates is a company that offers health insurance services to individuals, families and businesses (groups). Borde and Associates help many save money by providing high-quality health insurance. Borde & Associates work under the Affordable Care Act (ACA) to provide quality healthcare coverage for those who need it most! With Borde, you can find a plan that best suits your needs at an affordable price.
Our expert insurance agents care about you and your family. We prioritize our customers by gathering information, conducting a needs-based analysis, and establishing a relationship centered on truly assisting - this allows us to provide the best fit insurance options.
We take the time to learn about your personal needs, as well as those of your family. We will regularly update you on changes for you to have a clear understanding of how these changes affect you and why they were made.
Our associates have an active and suitable standing Florida 2-15 license (Health & Life (Including Annuities)) appointment with the Florida Department of Financial Services.
We have you covered if you are looking for health insurance, short or long-term care, Medicare options, life insurance with living benefits, retirement savings, and income that offers growth, access, and safety.
We also cater to business (group) needs such as succession planning, defined benefit plans, group health insurance, and voluntary benefits.
The Benefits of Having Health Insurance With Borde and Associates:
Regardless of your health status, you are covered.

There are no lifetime limits or caps.

Individuals earning less than 400% of the FPL are eligible for subsidies (Federal

Poverty Level)

The ability to combine your plan with a Health Savings Account (HSA) to save money on taxes.

If you are 65 or older, we also cater to you with Medicare options!
What We Offer:
Borde and Associates provide you and your loved ones with the healthcare you'll need. We offer the following for you:
Business / Group Health Insurance Plans

Businesses can enroll anytime

HMO, POS, EPO, and PPO plans are available

Preventive care coverage

Lower annual cost and deductibles

Self-Insured and Fully Insured options

Taxation benefits
Retention

Health Savings Account (HSA)

Flexible Health Reimbursement Accounts (HRA)

Employee Assistance Program (EAP) for employees and their families.

Individual Health Insurance Plans

Short-term health insurance plans are available, and long-term options include major medical, accident supplements, and cancer insurance.
We also cover the following:
Health Insurance incl Medicare options

Life insurance with living benefits

Long term care strategies

Tax-free & lifetime income retirement strategies

Fixed Indexed Annuity
Disability

Vision

Dental

Hospitalization

Voluntary benefits for groups
Our guarantees
At Borde and Associates, we don't just offer health insurance; we offer solutions. We can help you to structure your health insurance plans and coverages in the most cost-effective way possible. We guarantee that our services will provide you with your insurance needs and leave you with a sense of security and financial protection.
We have been providing Health Insurance solutions to our clients for over a decade now, and it is what has earned us the trust of many throughout Brevard County and all of Melbourne, Florida. We also guarantee the following:
Specialize in different types of health and life insurance

Personalized service

Effective insurance services

Fully licensed professional team

Serves individuals, families, and businesses
We are proud to serve Brevard county as well as the following locations in Melbourne:
Melbourne & Melbourne Beach

Palm Bay

Rockledge

Titusville

Cocoa & Cocoa Beach

Indialantic
Merritt Island

Cape Canaveral

Indian River County

Vero Beach

Sebastian
About us
Located in Melbourne, BORDE & ASSOCIATES finds the most cost-effective health insurance and health care sharing plans for individuals and families. We cater to various types of group health insurance plans. The Health Insurance plans we provide are customized to meet the health care needs of your family. We work with multiple national tenured A or better-rated insurance carriers that offer competitive rates and benefits. We provide a wide range of health insurance. Contact us today!
Why You Need Health Insurance – Florida Requirements and Benefits
What does having health insurance in Florida entail? BORDE & ASSOCIATES, a reputable company in the state of Florida, has outlined some of the advantages and responsibilities of having health insurance. BORDE & ASSOCIATES is a well-established company that offers its clients comprehensive and high-quality services. BORDE & ASSOCIATES also provides an online service through which you can obtain quotes from BORDE & ASSOCIATES' list of providers at your leisure. We have many options for you available. Contact us today to get started!
What is Health Insurance?
Health insurance is a program that assists people in paying for medical expenses. Employers can provide health insurance, but it can also be purchased over the counter or through your state's health exchange plan if your employer does not offer it.
Why Do You Need Health Insurance?
Health insurance protects you financially in the event of a severe accident or illness. A broken leg, for example, can cost up to $7,500. Health insurance can help protect you from unexpectedly high costs.
With Marketplace coverage, you'll have free access to preventive services such as vaccinations and screening tests. Receiving recommended preventive services is an essential step toward better health and wellbeing.
When you apply for insurance through BORDE & ASSOCIATES, you'll learn if you qualify for ax credits that can make insurance more affordable. Before you apply, choose your household size, state, and income range to see if you are eligible for financial assistance.
Health insurance can cover a wide range of expenses, such as doctor visits and prescriptions. Health insurance also covers the costs of hospital stays and surgeries that would otherwise be prohibitively expensive for you or your family. Health insurance is essential because it allows people to receive care when they need it most without worrying about the costs of medical treatment.​​​​​
What is Florida Medicaid?
Florida Medicaid is a state-federal partnership that provides health insurance to certain low-income people in Florida. Its goal is to improve people health who would otherwise be unable to afford medical care for themselves and their children. Individuals and families with incomes and assets that fall within the eligibility guidelines can obtain health insurance. Doctor visits, prescriptions, drug costs, lab fees, x-rays, vision care, and even hospital stays are all covered by health insurance.
Florida Health Insurance Requirements
To receive health insurance in Florida, you or your family members can enroll in one of the following categories:
The Affordable Care Act (ACA) / Health Insurance Marketplace

CHIP for children under the age of 19;

Medicaid/Low Income Pool (LIP) for pregnant women and people with disabilities.

Employer group plan
Things to Know About Health Insurance:
Health insurance protects you and your family from unexpected medical costs.

Health insurance is more affordable than some people believe, thanks to government programs such as The Affordable Care Act (ACA), Florida Medicaid, and CHIP, which provide health plans for free or at a low cost to individuals and families who meet income and other determining requirements.

Health insurance is required by law for your child to be enrolled in school, and there are no excuses for not having coverage. Health insurance laws vary by state, but in Florida, all children under the age of 20 must be insured unless they qualify as dependents on another policy or have received an exemption (Health Insurance agencies can grant this).

Health insurance not only helps with everyday costs, but it can also save your life. Without health insurance, an unexpected illness or injury could result in substantial medical bills that would have to be paid out of pocket at the cost of thousands of dollars. It is essential to know what you are entitled to and what Health Insurance companies will pay for.

Health insurance is a financial investment, and planning can help you get the best deal possible, so be sure to compare all your options before making a decision that could affect your future wellbeing.
Health Insurance laws vary from state to state, but Florida requires all children under age 20 must have Health Insurance. Health Insurance will cover the costs of medical treatments, hospitalizations, and surgeries. Health insurance can also help you find the best doctors to treat your specific needs.
Health insurance is cost-effective if you can use all its benefits without filing a claim for reimbursement. The main benefit of Health Insurance is that it helps offset or mitigate catastrophic events for you and your family. Health Insurance is a significant financial decision you will make in your lifetime.
Health insurance companies also offer Health Savings Accounts for individuals and families to help them save money on their annual medical expenses. At the same time, they are healthy by setting aside pre-tax dollars each month into a savings account that accumulates until the insured needs it.
Who Can Help?
Borde and Associates, PA, DBA BORDE INSURANCE FINANCE INVESTMENTS
Located in Melbourne, BORDE & ASSOCIATES finds the most cost-effective health insurance and health care sharing plans for individuals and families. Get in touch today! We have health plans that fit your needs! We work under the Affordable Care Act (ACA) to provide high-quality health insurance services to individuals and families.
Newsletter
Receive resources & tools that can help you prepare for the future. You can cancel anytime.